I was in a huge rush last week and we needed something quick and healthy from the grocery store. *Between wrap parties, the gym, self-defense training and filling seed orders (and the Chiropractic office) it's been a busy year so far.*
I'm linking up with the very first Tuesdays with a Twist!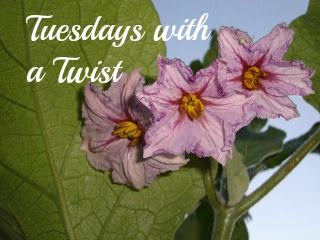 So I rushed into the grocery store, grabbed a baked chicken, salad greens and a jar of Creamy Chipotle Ranch Dressing. YUM!!! We loved the dressing...Until I read the ingredients. YUCK! It was full of chemicals.
I usually make my own dressing anyway.
My husband LOVES the Apple Cider Viniagrette but like I said, we were in a hurry. I made a few modifications to the recipes I found online. Let me know what you think!
Ingredients:
4 garlic cloves, minced
1 teaspoon salt
2/3 cup mayonnaise
½ cup plain yogurt
¼ cup milk
½ cup water
4 small chipotle in adobe, minced
6 tablespoons minced fresh cilantro leaves
1 large lime, juiced


Directions:
Add all ingredients to your blender and blend until smooth.
*Use all milk if you prefer. I don't like my dressing thick so feel free to reduce the liquids*