I'm not sure why I wanted to use yogurt in pancakes this weekend but I really wanted pancakes. We've been on a bit of a yogurt kick so the fridge is full. I'm thinking about making my own but that's for another day.
I'm linking up again at Tuesdays with a Twist. Join me!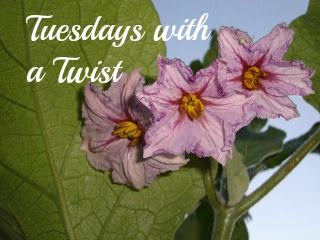 Delicious Yogurt Pancakes
adapted from about.com
Ingredients:
1 cup flour (organic, non-bleached)
1 tsp. cinnamon
1 cup plain or vanilla yogurt
(nonfat, low-fat, or whole milk all work here)
Oil or spray oil for cookin

g
Heat a griddle or large frying pan over medium high heat. Meanwhile, combine flour, sugar, baking soda, cinnamon, and salt in a medium bowl; then whisk yogurt and eggs together; add yogurt and eggs to flour mixture and stir to combine. Stir in melted butter or oil.
Spray oil on hot griddle and spoon batter into even cakes – about 8 – and let cook until bubbles form on the surface of the cakes, about 2 minutes. Flip and cook until golden brown on the other side, about another 2 minutes.
This recipe makes a

bout 8 pancakes so it can easily be doubled or tripled.
Coconut oil has many health benefits and gives any recipe a nice flavor. Check out

some of the great deals at Tropical Traditions:
Virgin Coconut Oil, Gold Label, 2-jar pack - 1 quart each
Virgin Coconut Oil, Green Label, 2-jar pack - 1 quart each
Special Price! - Organic Coconut Flakes - 1-lb Bag
Sharing this recipe at Tuesdays with a Twist, The HomeAcre Hop and HERE.