Hello and Welcome to another REAL Food Friday!
Before we get started I have 1 simple request...
I know "Real" food may not seem like as much fun as the sugary, chemically, DIY recipes out there on the internet. This is why REAL Food Friday is so unique. This is the place to share your unprocessed, gmo-free, locally grown and/or fair trade posts.
We are trying to make a difference 1 recipe at a time!


We're your co-hosts
Joyce @ It's Your Life
Lydia @ Lydia's Flexitarian Kitchen
Deborah @ Kneaded Creations
And me...Mary @ Back to the Basics and Mary's Kitchen
Please welcome Marla @ Organic 4 Greenlivings
My Features this week are:
JUST IN TIME for the pumpkins...
In case you missed "What is Real Food" here's a recap...
Here's a great reference from
Food Myths
:
Do you ever think about how far the food you eat travels? Who grew it? Who picked it? How much in processing it's been through before you took a bite?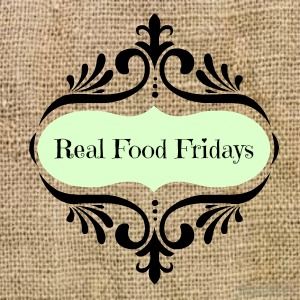 Real Food is:
-Supports fair farmworker wages
-GMO Free
-Little to no processing/processed ingredients
-Supports local markets/vendors and isn't transported long distances to get to my plate
-Honors fair trade principles when I buy from othr regions
-Meat and dairy should be humanely raised and on real food themselves-Not genetically engineered feed, drugs, hormones and antibiotics.
Link up your Real Food posts! Processed and "junk food" posts will be deleted.
The party runs from Thursday at 7pm EST through Monday at Noon. If you're interested in co-hosting let us know!
Please follow your hosts and consider adding the Real Food Friday button.