The big question...What is Real Food? This might be different for each and every one of us. To me, real food is homemade and from scratch.
This doesn't have to last just 7 days. I plan on learning more about our food and continuing with eating more whole foods that I've cooked or prepared from scratch.
The Real Food Challenge will begin on Sunday, July 21st!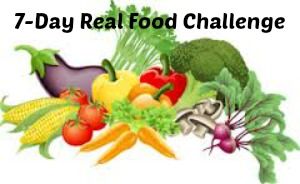 So here's the scoop:
We'll be
eliminating
store-bought, mass-produced breads, pasta, bakery items, canned food, pre-made foods and mixes, jams and jellies.
No deep fried or fast foods. No refined sugars.
For me, I'm even going to try to make my own mayo and ketchup.
No more canned beans...We're making them from scratch!
Some of this will take a bit of prep work like beans but in the end I hope to learn from the experience, save money and improve our health.
I'll be heading back to the Farmer's Market!
Suggested "Real Food"
Whole Foods...unprocessed
fresh veggies and fruit
homemade quinoa and legumes
*I don't eat meat but my husband does* for meat, the less processed the better. If you can find wild caught fish it is much better. If you have a place to purchase locally and humanely raised chicken/beef/pork this would be a great time to explore those options.
Raw nuts and seeds
Oils: Olive, coconut, sunflower, safflower...preferably organic (not vegetable)
Natural sweeteners: Honey and pure maple syrup
Dairy: organic, whole, unsweetened (if possible) *I'm going to try to make yogurt instead of buying it from the the store.
At the moment we are 9 bloggers participating in this challenge...more are welcome!
Joyce @ It's Your Life
Lydia @ Lydia's Flexitarian Kitchen
Maureen @ It's All Connected
Jules @ My Mom's a Whack Job
April @ WhyTheSimpleLife
Melinda @ Auntie Em's Guide
*NEW* Courtney @ The Crunchy Deliquent
*NEW* Kristina @ Mother's Niche
and me...Mary @ Mary's Kitchen and Back to the Basics
Check out the Real Food link party...It's LIVE!
And now for the recipes! I've been looking everywhere for recipes to get myself prepared for this challenge. Preparation is key!