Good Morning!!! Just in case this is your first time checking out Mary's Kitchen...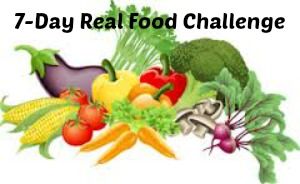 At the moment we are ?? bloggers (and more) participating in this challenge:
Joyce @ It's Your Life
Lydia @ Lydia's Flexitarian Kitchen
Maureen @ It's All Connected
Melinda @ Auntie Em's Guide
Courtney @ The Crunchy Deliquent
Kristina @ Mother's Niche
Taylor @ Mama has Pink Hair
and me...Mary @ Mary's Kitchen and Back to the Basics
Have you seen the pattern yet? I like my coffee and I love lemon water! Both day 5 and 6 went the same for the morning. Oatmeal for breakfast. I managed to make Basil Lemonade for tomorrow.
Day 4 was fun. For lunch we had a fun creation that I definitely make again. Egg in a Pepper!
It was so easy to make. Slice a 2 thin rounds of bell pepper. Cook for about 1 minute on high in approx 1 tablespoon of olive oil. Add an egg to the center and cover. Flip after approx 2 minutes. It should be cooked for an additional minute and then it's done!
Dinner for Day #5 was another delicious protein shake.
Double Chocolate Gone Greek!
1 scoop ProFIT chocolate protein powder
1/2 cup organic greek yogurt
8 ounces dark chocolate Almond Milk
1 banana
Ice

Add all of the ingredients to your blender and blend until smooth.
I have a confession to make for Day #6. I totally cheated for lunch. While at work a friend came in and she was so upset. My husband and I took her to lunch to cheer her up. I could have suggested a healthier option but I know they both love cuban food.
I ate grilled chicken, beans and spanish rice, chips and salsa. And Yes, all but the chips are real food but for ME the challenge was to eat everything from scratch.
I was so full from lunch that I didn't even eat dinner. I fixed my husband a protein shake and I ate a few pieces of watermelon.
Not the end of the world! Tomorrow is Day #7 and I have a few fun food things planned. Stay tuned!
How has the challenge been for you? Do you have a recipe to share?
The REAL Food Linky is still open AND Lydia set up a Pintrest board. Stop by and share your real Food creations!
I am considering hosting another Real Food Challenge in August. Sign ups have already begun.