Good Morning!!! Just in case this is your first time checking out Mary's Kitchen...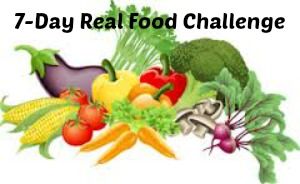 At the moment we are 8 bloggers (and more) participating in this challenge:
Joyce @ It's Your Life
Lydia @ Lydia's Flexitarian Kitchen
Maureen @ It's All Connected
Melinda @ Auntie Em's Guide
Courtney @ The Crunchy Deliquent
Kristina @ Mother's Niche
Taylor @ Mama has Pink Hair
and me...Mary @ Mary's Kitchen and
Back to the Basics
I switched it up a bit this morning. I drank Basil Water (not lemonade this time) before I had my coffee. I also drank only 1 cup of coffee...Mostly because I was running late to get to work. Breakfast of course was Oatmeal!
Lunch on the other had was AMAZING!!! I'm eating meat again in moderation. I was inspired by Michelle at The Purple Pumkin. She shared this amazing Brussels Sprout Gratin. I made my usual tweaks and we LOVED it!
Roasted Brussels Sprouts and Bacon
Ingredients:
3 pounds washed Brussels Sprouts, ends removed and halved
8 ounces Bacon, cooked but not crispy
small handful of fresh garlic, chopped
1/4 cup parmesan cheese, finely grated
1/4 cup mayo
1/2 cup greek yogurt (or sour cream)
1/2 cup water (or milk)
salt and pepper
Directions:
Mix the mayo, greek yogurt, water and spices in a bowl.
Add in brussels sprouts, cooked bacon, garlic and mix thoroughly. Sprinkle with parmesan cheese and place in a large casserole pan.
Bake at 400 for approx 30 minutes.
I served the Roasted Brussels Sprouts and Bacon with Spicy Buffalo Cauliflower...Recipe coming tomorrow!
Overall I enjoyed Our Real Food Challenge. I cheated one meal on Day #6 but got back into the challenge for the next meal. I would like to extend an invitation for YOU to join the next challenge.
There are 2 opportunities: August 18th 2013 will be the first day of Our 7-Day Real Food Challenge #2
AND
Joyce and I are planning another Real Food opportunity VERY soon.
Send an email to mari_backtonature@yahoo.com
for details on the next 2 opportunities or to sign up.
Thanks for checking out Our Real Food Challenge!