Since I began posting about Our 7-Day Real Food Challenge the most common questions are about what to drink.
Great questions! Personally, I don't tell anyone what the can or cannot eat or drink. It is important for each of us to decide what works best for our individual situations. I personally will not be giving up coffee. I drink my coffee black with a bit of honey.
I would suggest that if you currently use store-bought, chemically creamers that you cut it out completely...for good! Whether it's fat-free, low-fat or dairy free most of them include cancer-causing chemicals. Coffee-Mate ingredients include partially hydrogenated soybean and/or cottonseed oil. Can you say GMO? Think it's better than real half-and-half? "COFFEE-MATE actually has more calories than half-and-half, with the original powdered version clocking in at 30 calories per tablespoon vs. real half-and-half at 20 calories per tablespoon!" source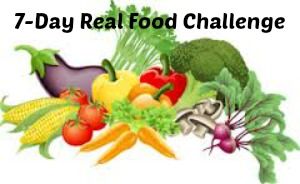 Tea drinker? Go for it!!! Many tea varieties including green tea and yerba mate are great source of immune-boosting vitamins and minerals. If I decide to sweeten my tea I always use honey. We cut agave completely OUT several years ago for health reasons and we've never looked back.
We don't drink soda. For a special occasion we'll drink gin and tonic but I won't be drinking alcohol during Our Real Food Challenge. I enjoy a glass of wine occasioanly but I'm going to cut it out all together. The only alcohol will be in our DIY Tinctures and Herbal Remedies.
Water is vital! Your body need water for proper body functions and for survival. Plain water is fine but If you want to "spice" it up add fruit, cucumber or herbs. **Not chemicals**
Lemon Water:
I added about 4 sliced lemons to approx 1 gallon of water. I let it sit in the fridge overnight and it was delicious! If you don't like plain water this would definitely work.
I'll also be making another large batch of Basil Lemonade. This time with no sugar or just a little bit of honey. There are many health benefits of Lemon and Basil.
Basil, Lemons and water. That's it!
Another option would be mint and watermelon, cucumber and mint or just plain cucumber. Make your own combination and feel free to share at Our Real Food Challenge linky.
Sharing this informative post
HERE
.