When I first approached my husband about Our 7-Day Real Food Challenge his response was "Sounds Expensive." As the primary food buyer in the house I can honestly say that we'll probably save money.
***REAL Food Linky*** ends July 20th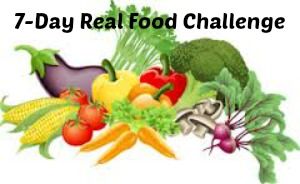 By preparing for meals in advance there will be no last-minute call to the local pizza place to waste money on junk food. Also, by purchasing organic REAL food ingredients at the local "big-box" store I'll definitely save $$.
Last night when I mentioned Our 7-Day Real Food Challenge to my mom she said "Sounds daunting." Without proper recipes and preparation this challenge might seem daunting. For us is it simply getting back into the routine of eating simply. It might seem easier to order a pizza or drive-thru but not when it comes time to button up your pants or put on a bathing suit. Not to mention the damage to your health.
I would rather spend a bit more time to prepare healthy foods than waiting til I feel bad or I've gained back the weight I lost several years ago. I FEEL better when I eat better. I LOOK healthier when I eat healthier.
This is a Challenge for YOU...Can you eat healthier for 7 whole days? Can you make a decision to continue eating healthier? This decision could change your life. It could change the lives of your entire family! Is it worth it? I think so!
At the moment we are ?? bloggers participating in this challenge...more are welcome!
Joyce @ It's Your Life
Lydia @ Lydia's Flexitarian Kitchen
Maureen @ It's All Connected
April @ WhyTheSimpleLife
Melinda @ Auntie Em's Guide
*NEW* Courtney @ The Crunchy Deliquent
*NEW* Kristina @ Mother's Niche
and me...Mary @ Mary's Kitchen and Back to the Basics
So here's what's in my fridge at the moment...Cleaned out this weekend! Keep in mind the challenge doesn't actually begin until Sunday.
Zucchini, Eggplant, Bell Peppers, Mushrooms, Onions, Leeks, Kale, Broccoli, Ginger, Red Potatoes, Sweet Potatoes, LOTS of Watermelon, Lemons, Grapes, Strawberries, Broccoli Slaw, Eggs, Homemade Lentil Soup and Cooked Quinoa.
For my husband I also have roast chicken in the fridge and 1/2 roast turkey in the freezer. Both homemade using un-processed ingredients.
*I did not throw out the store-bought condiments* I don't need a riot on my hands in my own house...baby steps!!!
My husband also wanted to know if I'll make him cake. Seriously? I don't even make dessert on a regular basis and you want one now? He's been such a trooper lately that I might have to try my hand at something to surprise him.
We will definitely be sipping on more HomeGrown Basil Lemonade. I LOVE this recipe and make it regularly!!!
There are still a few days left to sign up for Our 7-Day Real Food Challenge. You must send me an email to
mari_backtonature@yahoo.com
If you comment and are a no-reply blogger I will not be able to get you signed up.