Good Morning!!! Just in case this is your first time checking out Mary's Kitchen...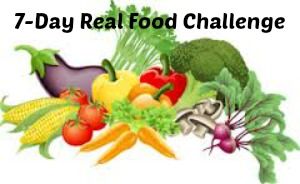 At the moment we are 8 bloggers (and more) participating in this challenge:
Joyce @ It's Your Life
Lydia @ Lydia's Flexitarian Kitchen
Maureen @ It's All Connected
Melinda @ Auntie Em's Guide
Courtney @ The Crunchy Deliquent
Kristina @ Mother's Niche
Taylor @ Mama has Pink Hair
and me...Mary @ Mary's Kitchen and Back to the Basics
Yesterday was a wonderful day...The start of Our Real Food Challenge!
I was actually able to sleep in until 7:30am. Yes, the kitten let us sleep past 6am!
I started my day with black coffee with a bit of honey and a large glass of fresh lemon water (no sweetener).
I've never been to NY but a patient gave me a mug from her last trip.
My husband is always in charge of breakfast. We eat oatmeal every morning. I won't share a picture. It's boring. I add a tiny bit of honey and a sprinkle of cinnamon while Doc (husband) adds organic real maple syrup.
After I did a bit of blogging, playing with the kitten and then getting cleaned up we ventured out into the world to the Farmer's Market. Sunday is our market day since we work for a few hours on Saturday at our Chiropractic Clinic.
Lunch was a bit more eventful. One thing I've learned...Since my husband is a meat eater...Cooking a large batch of chicken in the slow cooker makes my life so much easier. That's what I did on Saturday to get ready for Day 1. For the chicken I used 12 thighs, large chopped onion, garlic, cumin, dried basil and oregano, smoked paprika and sea salt. Add in approx 10 cups of water and set for 4-5 hours on high. Easy!
I had grilled eggplant, squash, mushrooms and red onion over quinoa.
Doc had the same with juicy, melt in your mouth chicken.
Snacks throughout the day included baby carrots, celery and deliciously juice watermelon.
Dinner was easy! We drink veggie/protein shakes for dinner. Ingredients include Ultimate ProFit (non-gmo) protein powder, frozen strawberries, blueberries and Celery. More recipes
We feel great so far. Today wasn't much different than normal.
How was your Day 1?
This is a Real Food Challenge! Join Us!
The linky below is ONLY for "Real Food" recipes and related posts.
Sorry to be the linky police but any "junk food" recipes will be deleted.