Today is the big day! Today is the first day of Our 7-Day Real Food Challenge. Check out this Amazing Pintrest Board from Lydia.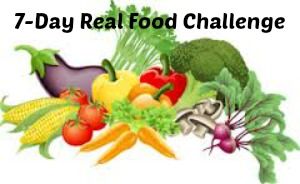 In preparation...Last night I grilled a large red sweet onion and a bit of eggplant. The only "sauce" was olive oil and balsamic vinegar. I also added a bit of pepper. This will most likely go over quinoa.
For my husband, I cooked up 2 pounds of chicken in the slow cooker. I used only organic spices: sea salt, pepper, garlic, cumin and smoked paprika. No pre-made, broth...just water and large onion chunks. He always say "Delicious."
This is how I started my day!
This morning we are off to the Farmer's Market. I'm looking forward to digging into a nice juicy watermelon!
At the moment we are 8 bloggers participating in this challenge:
Joyce @ It's Your Life
Lydia @ Lydia's Flexitarian Kitchen
Maureen @ It's All Connected
Melinda @ Auntie Em's Guide
Courtney @ The Crunchy Deliquent
Kristina @ Mother's Niche
Taylor @ Mama has Pink Hair
and me...Mary @ Mary's Kitchen and Back to the Basics
I've received emails from quite a few people who will also be joining Our Real Food Challenge. Please feel free to leave your comments.
Come on back tomorrow for details of Day 1 AND a Linky!!
Follow along...
Before I go...There is still time to enter the FREE Heirloom Seeds giveaway on our facebook page. ENDS tonight!